Great Gifts For Trump Supporters
Posted by JOE SWEENEY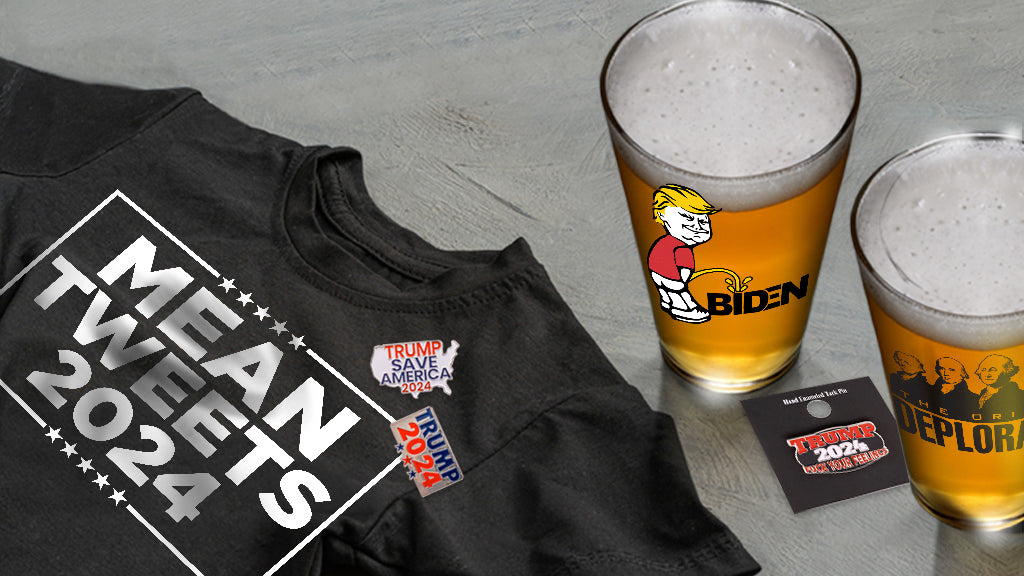 The midterm elections are just around the corner and the next presidential election will be here before we know it. There is no better time than now to get your favorite Trump supporter (or yourself) that special gift that really shows #45/#47 all the support he deserves, and if that gift also communicates "Let's go Brandon" then all the better.
Ah, Hillary. Will she ever get to the place she deserves? No, not The White House (what she thinks), but the big house (what we know). For that special person in your life that especially despises Mrs. Clinton, what better gift than something that supports Trump and represents membership as a Deplorable? Your favorite Trump supporting Deplorable can enjoy the most refreshing American lager in a Deplorables for Trump pint glass or the finest American whiskey in a Deplorables for Trump whiskey glass. Better yet, get them a set of four glasses so they can raise a toast (to Hillary's future incarceration) with their closest Deplorable friends.
It's been 547 days (as of the date we posted this) since the incoherent Babbler-in-Chief took office and we can safely say that there are worse things than mean tweets. A lot of worse things. Inflation, the war in Ukraine, an ongoing state of emergency that strips us of our God-given, constitutionally protected freedoms, and the list goes on and on… Help your favorite mean-tweet-loving friend offend liberals with a T-shirt that supports Trump's reelection in 2024. Let's get American back to where mean tweets are our worst problem.
If you are of generous spirit, you can pass out little items of Trumpism to your patriotic friends and family members. With our variety of pins available, we have the right sentiment for every Trump supporter in your life. For your grandma in her Sunday best, might we suggest our church congregation approved Trump 2024 pin. Your best friend will be thrilled to receive a Trump Save American 2024 pin, which will certainly be the subject of many compliments at the next Trump rally they attend. Our Trump 2024 F Your Feelings pin is perfect for your uncle who sleeps with a .45 in his nightstand drawer and waters his lawn with leftist tears.
If your Trump-supporting wine enthusiast friends can't make it to the Trump family winery, then get them the next best thing: Trump-supporting wine glasses. For the Trump-lover at heart, we offer a Heart Trump wine glass and for those who love both Trump and country, we have a Heart Trump – Stars and Stripes wine glass. For the non-apologetic Trump supporter, we suggest the I Support Trump and I Will Not Apologize for it wine glass, which also comes in a patriotic version. The Trump Makes Me Happy, You Not So Much wine glass is perfect for everyone who isn't a people person. And finally, anyone in your life who tells it like it is will appreciate the Trump Won wine glass (because Trump won, FJB).
Do you have a gift giving occasion upcoming? Perhaps a birthday or anniversary? The Trump-loving, Biden-hating special someone in your life will be sure to appreciate a themed gift set, and an image of #45 paying urinary tribute to #46 will definitely make a big splash. This gift set comes with a 100% cotton T-shirt, whiskey glass, magnet, and flag pin, and features our favorite president peeing on Biden's name. This is a tribute we'd probably all like to pay to Incontinent Joe, except he's surely already beaten us to it himself…
By now, you've done such a great job shopping for all your Trumpublican friends and family members, that you deserve to reward yourself. What better way than with a Trump Seal Decanter Set, which comes with decanter featuring the Donald Trump, President of The United States seal, and four Trump 2024 whiskey glasses. Gather together with your Trump-supporting community, and raise a glass to #45, the man who should currently be seated in the Oval Office, and the 47th President of the United States.
Collection 2019
Sale 70% Off
Title for image