How to Throw a Patriotic Pool Party This Summer
Posted by JOE SWEENEY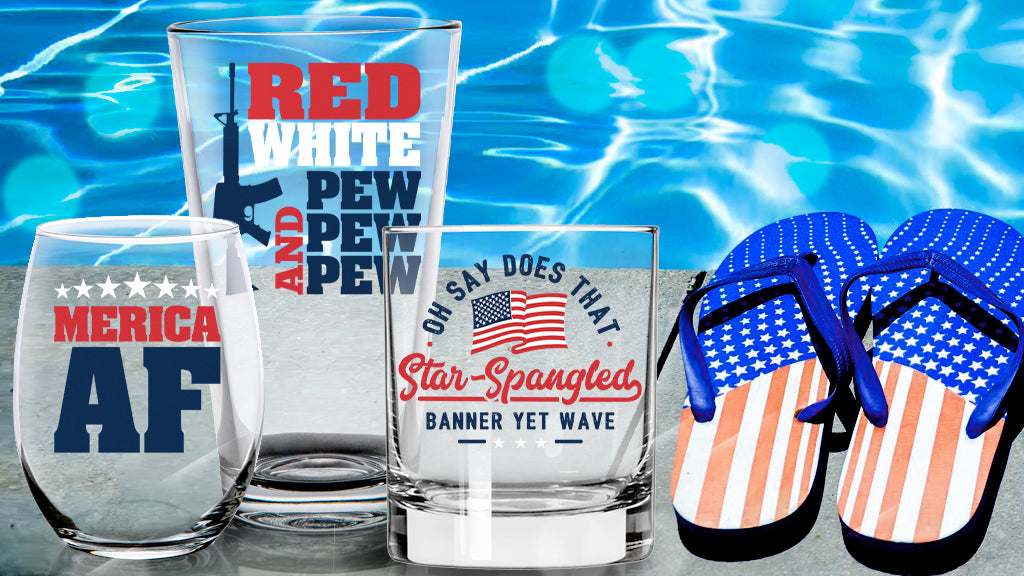 Summer feels like the most patriotic time of year. The season starts with Memorial Day, where we remember our fallen heroes. We then move on to the patriotic holidays, which of course are Flag Day and the Fourth of July. At the end of the season, we commemorate Constitution Day to recognize the signing of the document that defined the basic rights of U.S. citizens. Since we are feeling the American spirit all summer long, it seems only natural that we celebrate in a way that is unique to summer. So break out your American flag banana hammock or bikini, and read on about how to throw the best patriotic pool party ever!
A kickass party starts with getting the word out. If you are throwing a founding fathers themed party, you could hire a town crier, outfit them in a brass-buttoned blue coat, a red tricorn hat, and white breeches, and have them ring a bell and yell "hear ye, hear ye" outside the residences of your party guests and then proclaim the event details. Or you could go the modern and efficient route and send out a group text. We like to be a little fancy, so we recommend mailing some appropriately themed red, white, and blue invitations. Don't forget to remind your guests to bring their bathing suits.
Once the invitations are complete, it's time to plan the menu. Because this is a patriotic pool party, you should serve some summertime food that is classically American. We're talking about hamburgers and hotdogs (and veggie burgers for the non-meat eaters). Make sure to have plenty of potato chips and another snack foods on hand. Watermelon is a summertime favorite and is always a refreshing way to beat the heat. For dessert, we recommend doubling down on the patriotic theme and serving an American flag cake, complete with white icing, sliced strawberry stripes, and blueberry stars.
After the procurement of the victuals is complete, you can turn your attention to the more important menu: the drink menu. Iced tea, lemonade, and of course water are essential to have on hand to make sure your guests stay hydrated. Since you are already getting a watermelon, we recommend obtaining a second one and spiking it by cutting a hole in it, rotating the hole downward and inserting an open 750ml bottle of vodka, and then rotating the melon again so that the vodka bottle is upside down. The vodka will slowly soak into the melon's flesh. After 12-24 hours, remove the bottle, chill the melon in the fridge, and then cut into slices or cubes and serve! Be sure to grab plenty of beer and wine, and perhaps the ingredients for a signature red, white, and blue cocktail (grenadine, white crème de cacao, and blue curacao can be layered as a festive shot). And be sure to serve your drinks out of some truly inspired patriotic glassware. We have some recommendations:
It's time to devote a little attention to decorations and activities. Red, white, and blue décor is a must at any patriotic party. Pool floats decorated with the stars and stripes, or perhaps an American eagle are necessary to take your shindig to the next level. Cornhole is a great backyard poolside game, and will enhance any event. We recommend looking for an American flag themed cornhole set. Finally, make sure to have some red, white, and blue sparklers on hand for after the sun goes down.
The party is all planned, but what are you going to wear? If you are looking for a statement ensemble, look no further. Our I'm Not Drunk I'm Just Patriotic T-Shirt is the perfect thing to wear poolside as you devour the delicious spiked watermelon that you made. Our Kiss my Merica Loving Country Ass T-Shirt is also a great, patriotic option. And to keep the sun out of your eyes (or off your scalp), we recommend our Standard Flag Hat or our American Skull Hat.
At this point, you should be more than ready to throw an amazing pool party in the USA. Don't forget to invite us.
Collection 2019
Sale 70% Off
Title for image